Well it was quite a day, firstly the 20's wedding.
Most people did dress accordingly and looked great, the weather was kind and the reception venue was on Wroxham Broad, so a lovely backdrop, if a little busy with BH holiday makers, made for interesting viewing from the window though. We arrived at the hotel to find the freshly vacuumed red carpet out. We knew it was freshly vacuumed as they'd left the little red Henry vac out there! I got Mick to tuck it behind a planter as the B&G were hot on our heels. The hotel staff were fab though, very helpful and good humoured, a credit to the hotel trade. The tables had been set out with the names of 20's personalities, we were on Coco Channel, which had a pic and some bio facts about her on a card on an easel, and a string of pearls with a cigarette holder, other tables had suitable props too. The table centrepieces were tall vases with ostrich feathers rather than flowers and a little light in the bottom of the vase, crystals and rose petals on the tables, very pretty. While we we chatting and having canapes, we managed to watch the 2nd half of the Ipswich/Norwich match in the bar, the local derby is always one to watch. Norwich won but not brilliantly, should really have done better.
They had a 'Casino' after the dinner, we were all given fun money with the B&G's pic on to exchange for chips, I had a go at the black jack and didn't lose very much, then I had a go at the roulette, they announced the first dance would be in a few minutes so I put my chips down trying to get rid of them and ended up winning loads back, typical. I'm not great at this gambling lark, when I try and lose I win! Anyway we did our Charleston not long after that and I escaped to the other wedding, after doubling back a few hundred yards down the road as I'd left my wrap in the loos when I changed.
Now getting the connection was reset message when I try to host an image, will try to add pic later.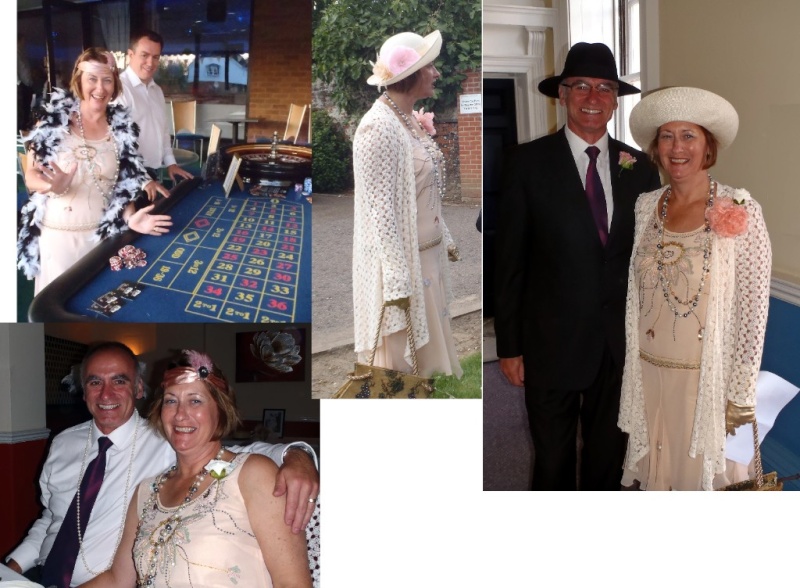 My casino winnings, hat trimmings etc will edit the Einstein hair from Mick later but it's quite fun!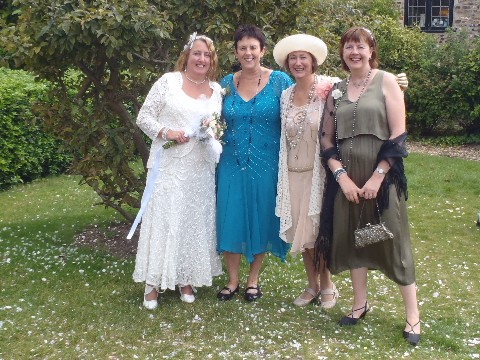 The St Mary's girls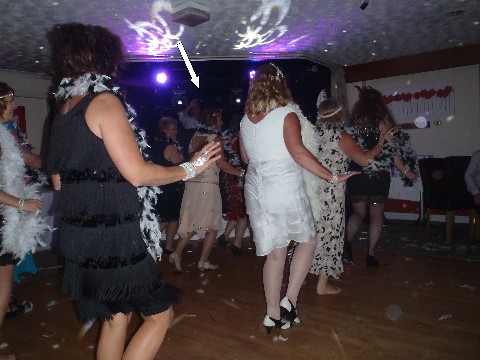 Nephew's wedding seemed to have been nice, got to find out what happened prior to our arrival but they had a dark old church which is used as a venue for concerts/gigs now, so it was almost gothic, they had lamps on old trestle tables and ivy trailing across the tables, which had been pushed back to the edges of the dance floor. The band very very good and played popular dance music, 80's, 90's and current. we all went outside and made an arch with sparklers for the B&G to run under, which was pretty.
They also had an area with fun props and speech bubbles with funny comments, the photographer had been taking pics of the guests earlier.
Nice to have a good dance, plenty of space, a little catch up with family, and a dash to the railway station with Chloe and BF then we went back to the campsite, we could have gone back to the first wedding as it was still going strong but by then we were tired.
Had a lovely full English this morning with humourous staff at the Lodge, they hadn't thought that they might have a bit of a rush on bank holiday weekend so they were a bit overworked but in very good humour and we were on holiday so it didn't matter that it took a little while.
I had probs with the tokens for the shower first thing and it was the chef who had to come and sort that out, turns out he pretty much runs the place. The tourist trade is hard right now as you just can't tell what's going to happen, the weather makes such a difference, and this place has only done camping for just over a year so they're still finding their feet a bit. Good naturedness goes a long way though and everyone was enjoying themselves.
Still can't get the pic thing to work.
Taken me half an hour to get it to connect, grrr.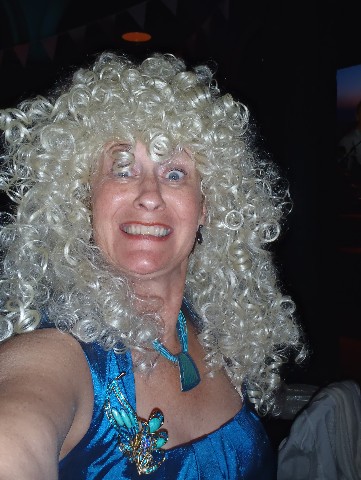 That's the only pic I got!
Last edited by thriftycrafter on Sun 24 Aug 2014 - 20:58; edited 2 times in total

***************************************
Creativity is messy and I am very creative.

thriftycrafter

Awesome Artist





Number of posts

: 11597


Age

: 56


Location

: Kessingland Suffolk


Registration date :

2008-08-30



Sounds like it worked out well for you, glad you had a good time at both do's.
***************************************

Scatty

Awesome Artist





Number of posts

: 6402


Age

: 59


Location

: back of beyond


Registration date :

2008-08-30



Love the outfit Karelyn and sounds like both were lovely weddings.

cb

Awesome Artist





Number of posts

: 4418


Age

: 59


Registration date :

2008-08-30



A good time had by all by the sounds of it lol.

***************************************
Smile, and make everybody wonder what you've been up to.

Di Masters

Awesome Artist





Number of posts

: 14034


Age

: 62


Location

: very small plot in Dorset


Registration date :

2008-08-30







Lorraine

Admin





Number of posts

: 16288


Age

: 63


Location

: On the road to nowhere......


Registration date :

2008-06-02



Well done on getting to both weddings and enjoying them both, Karelyn! Great pics, thanks for putting them up, especially as you had so much bother.

Lynda

***************************************
Some days I amaze myself. Other days I put the laundry in the oven.

lyndaejane

Awesome Artist





Number of posts

: 11249


Age

: 71


Location

: Richmond, Yorkshire - Town of the Year 2009


Registration date :

2008-08-30



Great pics, you look gorgeous, Albert is a lucky man
Lovely! Like the idea of a 20's themed wedding where everyone joins in, fabulous idea.
***************************************
Tina
My Beads on Etsy
No, I'm not putting my 'to do' list here, that would be far to organised, PLUS I would have to keep it up to date

LOL just realised Mick is wearing Coco's pearls!

***************************************
Creativity is messy and I am very creative.

thriftycrafter

Awesome Artist





Number of posts

: 11597


Age

: 56


Location

: Kessingland Suffolk


Registration date :

2008-08-30




---
Permissions in this forum:
You
cannot
reply to topics in this forum