This would be good to give with the jotter block (idea for man's present, if he has a desk at home or work?).

Once again, you can use a container from the food cupboard: the boxes that crackers for cheese come in, or the round containers that you are given posh biscuits in. Even Pringle containers or similar.

Cut the container down to about 4-5 inches tall. If it's thin cardboard, stick some thicker pieces of card on all sides to strengthen it. If it's a container with a laminated foil interior, like a Pringles container, paint the top edge in a colour to match the paper you will use. Cover the container with patterned paper, using the following method (sorry if I'm teaching some of you to suck eggs).

Cut a piece of paper that is an inch longer (for a container with a laminated interior, see below) than the height of the container and just a little bigger than the circumference/all round measurement. Stick it to the container with a similar amount hanging over either end. Wrap the bottom overlap onto the bottom of the container and stick it down: if it is a round container, cut the bottom overlap into lots of little strips before you stick it down - this will make the base a lot flatter than if you try to fold it. Fold the top overlap to the inside of the container and stick it down.

For containers with laminated interiors, cut the paper only a half-inch longer or cut it the exact length if it has a metal base: then follow instructions as above where required.

If the container does not have a metal base, you can finish the base off in either of two ways. (a) cut a square or circle just minutely smaller than the base and stick it to the bottom of the container, or (b) cut a square or circle of stout card about half an inch bigger each way than the base. Cut a square or circle of the patterned paper an inch bigger each way than the base and cover the cardboard square/circle with this, wrapping the excess round to the other side (use the method already mentioned if it's a circular container). Stick the to the bottom of the container, with the partly-covered side facing the container bottom.

Lynda

***************************************
Young at heart (other parts slightly older)

lyndaejane

Awesome Artist





Number of posts

: 9753


Age

: 69


Location

: Richmond, Yorkshire - Town of the Year 2009


Registration date :

2008-08-30



Excellent.
Here's a simple one I did just before Christmas with a gravy pot.
Never thought about a base though. That's a good idea.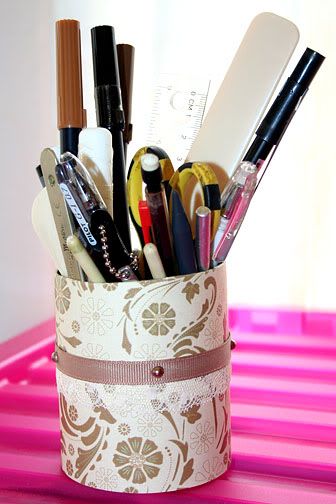 ***************************************
I'm not a complete idiot...some pieces are missing!

Bags to Bling on Etsy
My Blog
My Tutorials
My Photography
I've made several pots over the years as eventually, they get
a bit yuccky at the bottom (even if you use a glass jar).
If you want a large pot, Ovaltime containers are great, or luxury
peanut containers that you get at Christmas. As Lynda said, for
slimmer pots, Pringles are ideal.
I have my carousel on my table where I do craftwork, but I always
have a pot of pens on the computer desk ,one in the kitchen and
one by the phone. You can never have too many pens - or their pots.
I used Pringles (small Pots) great if you keep the lid for some bits which you want to contain i.e. paper clips..lids no use if using pens and pencils lol

The hardest thing was usiing the tall pringles pots, i had to rely on DT teacher to cut them down, but they did make better pots for taller pencils etc.
This won't surprise you, I have an old cocoa tin with my pens in!

***************************************
Creativity is messy and I am very creative.

thriftycrafter

Awesome Artist





Number of posts

: 10621


Age

: 54


Location

: Kessingland Suffolk


Registration date :

2008-08-30



---
Permissions in this forum:
You
cannot
reply to topics in this forum